CPLI's Day Under the Gold Dome
CPLI's Day Under the Gold Dome
January 24, 2018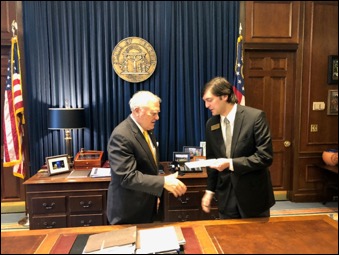 Jesse Weathington thanks Governor Nathan Deal after meeting/photo op with Conservative Policy Leadership Institute Class of 2018 (Photo Credit: Sarah Douglas)
Wednesday, January 24th kicked off the first session of the Conservative Policy Leadership Institute (CPLI) Class of 2018 with a Day Under the Gold Dome. CPLI is a non-profit organization that recruits policy-oriented individuals who have demonstrated leadership experience and who desire an advanced issue-based education grounded in conservative thought and provides them with in-depth educational sessions, site visits, connections to program alumni, and advocacy training. CPLI members and alumni enjoy access to nationally recognized experts in all fields of public policy, and the organization's leadership and alumni constitutes a veritable who's who among Georgia's political, policy, and business elite.

This year, the class will explore topics including the Tax Cut and Jobs Act, health care reform and competition, advanced manufacturing, logistics, economic development, transportation, and local government, among others. At each session, the class and alumni enjoy an intimate setting to explore and discuss these topics with nationally recognized speakers and experts from across the spectrum.

Jesse Weathington, Total Spectrum's Georgia Director, serves on the Executive Committee of CPLI as Program Chair, and will shape the agenda for this year's class of scholars. The class includes elected officials, candidates for statewide office, and leaders from the business, legal, and medical communities. Jesse was a 2013 graduate of CPLI and has served on the Board since 2015.